• Author: Christophe Dessimoz • ∞
You have a reference to a research paper of interest.
Perhaps this one:
Iantorno S et al, Who watches the watchmen? an appraisal of benchmarks for multiple sequence alignment, Multiple Sequence Alignment Methods (D Russell, Editor), Methods in Molecular Biology, 2014, Springer Humana, Vol. 1079. doi:10.1007/978-1-62703-646-7_4
How can you retrieve the full article?
Gold open access
If the paper is published as "gold" open access, you can download the PDF from the publisher's website. In such cases, it's easiest to paste the title and author names in Google and look for the first hit in the journal.
Alternatively, if you know the Digital Object Identifer (DOI) of the article, prepending http://doi.org should directly lead you to the article. In this case, the DOI is included at the end of the citation. (If you don't know its DOI, you can find it on the publisher's website or in a database such as PubMed). We get:
http://doi.org/10.1007/978-1-62703-646-7_4
Unfortunately, we see that this particular paper is behind a paywall at the publisher.
Green open access
There is, however, still a chance that it might be deposited in a preprint server or in an institutional repository. This is referred to as "green" open access. One way to find out is to look at the article record in Google Scholar and look for a link in the right margin:

In this case, the paper is thus available on arXiv.org.
If you know the DOI, an even quicker way of looking for a deposited version is by using the http://oadoi.org redirection tool, which works analogously to doi.org but redirect to a green open access version whenever possible:
http://oadoi.org/10.1007/978-1-62703-646-7_4
Here, a free version of the article deposited in the UCL institutional repository is found.
If you use Chrome or Firefox, you can also use the Unpaywall browser extension to automatically get a link to green open access alternatives as you land on paywalled articles.
On the author's homepage
Sometimes, the paper is available on the homepage of one of the authors. In this case, a link to the preprint is provided on the homepage of the corresponding author (item #36).
ResearchGate
Instead of an institutional homepage, some authors self-archive their articles on ResearchGate. In the case of our paper, the full-text version is indeed directly available.
And otherwise, if one of the authors is active on ResearchGate, it's also possible to send a full-text request at the click of a button.
Pirated version off Sci-Hub
Sci-Hub serves bootleg copies of pay-walled articles. This is illegal, so I only mention it for educational purposes. This works most reliably using, again, DOIs:
http://sci-hub.tw/10.1007/978-1-62703-646-7_4
If you, purely hypothetically of course, pasted that URL in your browser, you would or would not get a PDF of the entire book in which the referenced article appears.
#icanhazpdf
It's also possible to request full-text articles via Twitter. As described in Wikipedia, this works by tweeting the article title, its DOI, an email address (to indicate to whom the article should be sent), and the hashtag #icanhazpdf. Someone with access to the article might send a copy via email. Once the article is received, the tweet is deleted. Again, I mention this for educational purpose only—don't break the law.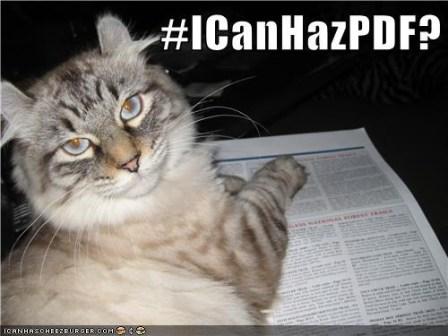 Altmetrics.com wrote an interesting post on #icanhazpdf a few years ago.
Email the corresponding author
Finally, you can always ask the corresponding author by email for a copy of their article. They will happily oblige.
[Update (19 Mar 2017): added mention of unpaywall to seemlessly retrieve green open access]