• Author: Tunca Doğan • ∞
Note: the "Life in the Lab" series features interviews of interns and visitors. This post is by our second 2016 OMA Visiting Fellow Tunca Doğan, who spent a month with us earlier this year. You can follow Tunca on Twitter at @tuncadogan. —Christophe
Please introduce yourself in a few sentences.
My name is Tunca Doğan. I received my PhD in 2013 with a thesis study in the fields of bioinformatics and computational biology where we developed methods for the clustering of the protein sequences using unsupervised machine learning techniques (Dogan and Karacali, 2013). I've since been working as a post-doctoral fellow in the EMBL-EBI, UK under the Protein Function Development team (UniProt Database) leaded by Dr Maria Martin. Here I'm developing new tools and methods for the automated functional annotation of protein records in the UniProtKB using a variety of features including domain architectures (Dogan et al., 2016). I'm also conducting research in the field of computational drug discovery. As of 2016, I'm also affiliated to the Department of Health Informatics, METU, Turkey both as a senior research fellow and a faculty candidate.
Why did you choose to apply to the OMA visiting fellowship programme?
The team behind OMA is world-leading in the field of phylogenomics, and they authored many highly cited publications in this area. Moreover, OMA is considered to be one of the most reliable and comprehensive resources offering phylogenomic information on various species. I've applied to this programme in order to develop my knowledge in phylogenomic research, particularly about the OMA production. My specific research aim was to investigate if and how the information in OMA can be utilized in order to increase the coverage and the quality of the automated functional annotation of proteins in the UniProt database.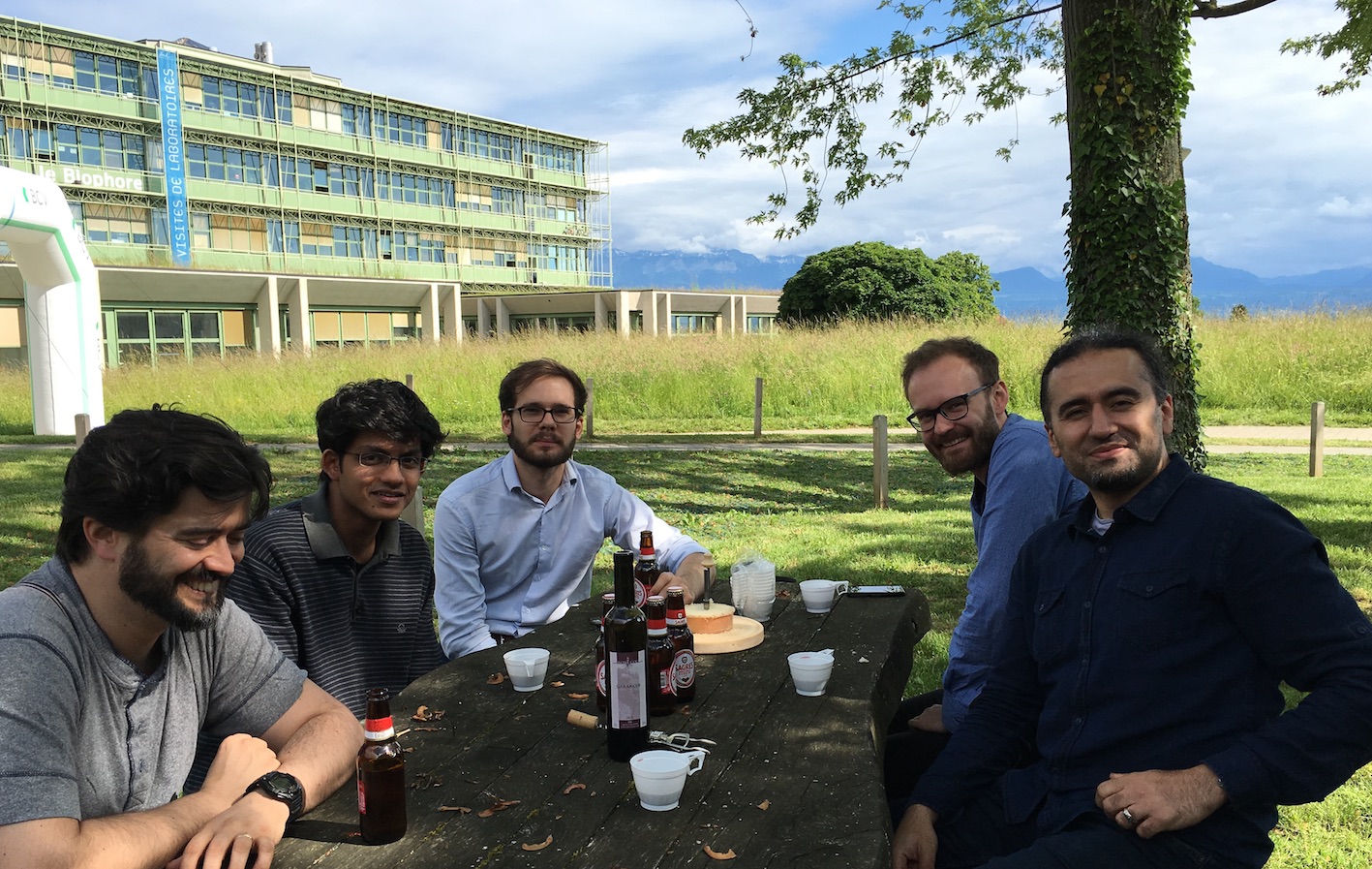 What project did you work on during your visit?
The project I worked on had two sides: 1) investigating novel ways of quality checking of the data produced in the OMA pipeline (especially HOGs) using the Domain Architecture Alignment and Classification (DAAC) method I previously developed in UniProt; 2) investigating the use of OMA groups and HOGs to propagate the functional annotation between the (homologous) member proteins of the same clusters/classes.
Was there any highlight or low point you'd like to share?
It was a great experience for me both professionally and socially. I've learnt a great deal in just one month and we still keep our collaboration with the continuation of the abovementioned project. Everyone I met in the group: Christophe, Adrian, David, Leonardo and Clement were all knowledgeable, helpful and friendly that I had great time during my stay. It was a great pleasure to meet and to work with them all…
UNIL/EPFL campus is just beautiful, at the shores of lake Geneva. The campus is also well-equipped for all possible needs. This was also my first time in Switzerland and I was enchanted by the beauty of this country… The only downside for a foreign visitor could be the expensiveness of life in Switzerland, which was also manageable with a little prior investigation and planning.
Do you have any practical tip for future OMA visiting fellows?
I definitely recommend any researcher (at PhD or post-doc level) that has an interest in phylogenomics to apply to this programme. You'll learn a great deal and have a good time at the same time. Also (for the foreigners) do not forget about travelling around this beautiful country in your spare time…
Editor's note: If you are interested in the OMA visiting fellowship programme, consult this page.
References:
Doğan T, & Karaçalı B (2013). Automatic identification of highly conserved family regions and relationships in genome wide datasets including remote protein sequences. PloS one, 8 (9) PMID: 24069417
Doğan T, MacDougall A, Saidi R, Poggioli D, Bateman A, O'Donovan C, & Martin MJ (2016). UniProt-DAAC: domain architecture alignment and classification, a new method for automatic functional annotation in UniProtKB. Bioinformatics (Oxford, England), 32 (15), 2264-71 PMID: 27153729